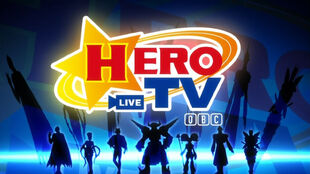 Hero TV
is a popular television program which follows the heroic actions of
Sternbild city
's primary company-sponsored superheroes.
Operation
Edit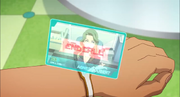 Points are awarded to heroes based on their hero activities in specific categories. Each season lasts from October to the following September, when all points are reset and can be gained again. The hero with the highest point total at the end of a season is crowned the "King of Heroes."
All active HeroTV heroes are given a simple "communicator" wristband which Agnes Joubert can use to contact them, usually to inform them of a crime being committed. Each communicator is white with colored bands around the edges, with the colored bands being a different color for each hero.
During the time that Jake has the entire city captive, it was temporarily renamed "Ouroboros TV" when Jake wanted everyone to see him take down every hero he selected all by himself for entertaining himself after being in prison for years.
Earning Points
Edit
+200 points
For each criminal captured.
+100 points
For each civilian rescued, up to a maximum of 500 for larger groups.
+50 points
Protect a public institution.
Capture a criminal by using a special attack/finishing move.
+25 points
Arrive first at the scene of the crime.
+15 points
Bonus for catching criminals in quick succession.
+5 points
Arrive second at the scene of the crime.
Notable Hero TV Staff
Edit
Past Rankings
Edit
| Rank | Episode 1 | Episode 10 | Episode 15 |
| --- | --- | --- | --- |
| 1st | Sky High (12,730 points) | Sky High (3,005 points) | Barnaby Brooks Jr. |
| 2nd | Blue Rose (10,992 points) | Barnaby Brooks Jr. (2,570 points) | Sky High |
| 3rd | Fire Emblem (9,326 points) | Dragon Kid (2,330 points) | Blue Rose |
| 4th | Dragon Kid (9,233 points) | Blue Rose (2,285 points) | Wild Tiger |
| 5th | Rock Bison (8,989 points) | Fire Emblem (1,860 points) | Dragon Kid |
| 6th | Wild Tiger (8,360 points) | Rock Bison (1,390 points) | Fire Emblem |
| 7th | Origami Cyclone (480 points) | Wild Tiger (1,225 points) | Rock Bison |
| 8th | | Origami Cyclone | Origami Cyclone |